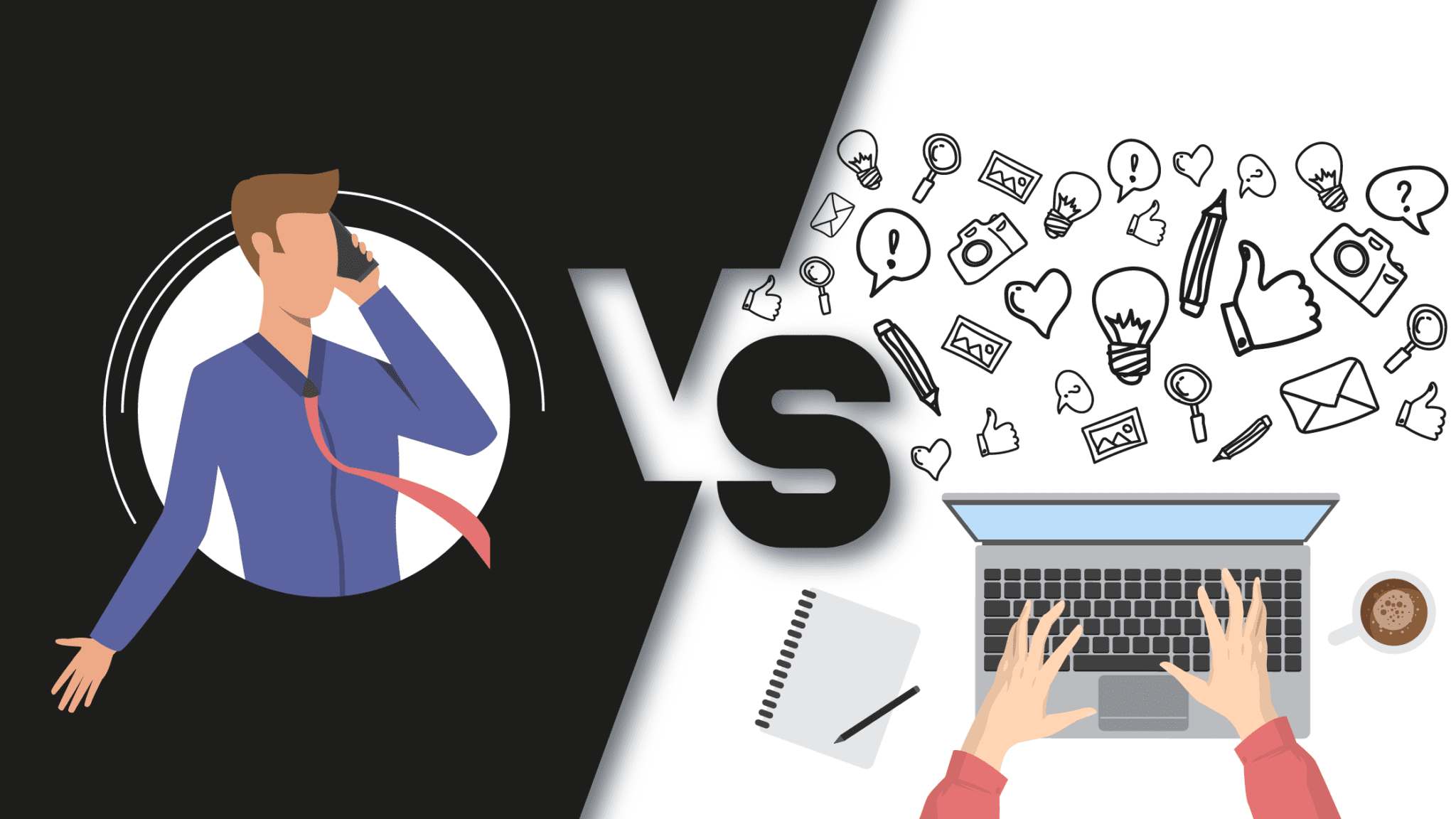 In this guide, we'll be learning about direct and indirect marketing; the advantages, disadvantages, examples, and which you should focus on.
When it comes to marketing, there are certainly some methods that trump others, but there's no one-size-fits-all solution.
Every company has its own specific goals and target customers that need a tailored and unique marketing plan.
And when you're deciding on the best way to reach your ideal clientele, there are two ways you can go:
Direct and indirect.
Understanding how these two differ and when they work best will make a massive difference in your success and results.
So without further ado, let's look at exactly what those differences are.
---
VipeCloud Is The CRM That Builds Rapport With You
All-In-One CRM – A complete sales & marketing toolbox.
Culture Of Support – And it shows in our reviews! #1 in usability & customer satisfaction in multiple categories on Software Advice.
15 Day Free Trial – Get started risk free. No CC needed.
---
Direct Marketing vs. Indirect Marketing — The Difference
To give the most straightforward possible answer:
Direct Marketing is when you're asking a potential customer to buy from you.
Indirect Marketing is more about building awareness and a loyal audience that will buy from you over time. In other words, leads come your way by themselves instead of you asking them to buy from you.
But it goes a bit deeper than that, and there are plenty of variations on the two, so now's time to take a deeper dive.
Let's start with direct marketing.
What is Direct Marketing?
As we previously mentioned, direct marketing involves asking someone directly to buy a product or service from you.
Common examples include commercials, print ads, sales calls, and the like. Direct marketing is an extremely effective tactic — in the right circumstances.
Used incorrectly, however, and direct marketing can just as quickly become a waste of time or even harm your brand in the worst cases.
But what's it good for exactly?
And when is it a bad idea to use direct marketing over indirect?
The Advantages of Direct Marketing
One of the most significant advantages of direct marketing?
It has the potential to bring very quick results, and if used in the right places — lots of those results.
But how can you use direct marketing in the right places?
Simple!
If you understand who your ideal audience is, you can target them with personalized messaging where they spend most of their time. For example, your email list subscribers may have different interests and preferences. And you can segment your contact list to send relevant content to each group of your audience.
See, with direct marketing, you're trying to get your prospects to buy right now, which is a huge advantage (and also a disadvantage, which we'll get to in a bit).
Putting your direct marketing pieces in the right places at the right time means you'll see the fruits of your labor within a relatively short time frame, and it can often be repeated.
And because of that, direct marketing can even complement indirect marketing exceptionally well.
Indirect marketing often takes a bit more time to come into effect. So in the time you're waiting for it to kick in, you can run an ad campaign or the like, to get you more immediate results.
(And then run the ad campaigns in tandem with your indirect marketing once the results do kick in.)
But this is only the first half of our discussion on direct marketing. It may have some big benefits, but it's not without its flaws.
The Disadvantages of Direct Marketing
One of the most significant disadvantages of direct marketing is that most modern audiences (the younger generations) are becoming increasingly resilient to the "traditional" advertising and sales methods.
Not to mention that direct marketing has a very real potential to become an annoyance to potential customers since it's much more direct.
If you aren't careful with how often and where you advertise or sell, your advertising runs the risk of having the opposite effect that you might've intended — pushing prospects away rather than bringing them closer to the purchase.
And for these reasons, you never want to be too heavy-handed with direct marketing.
Indirect marketing, on the other hand, is a different story.
What is Indirect Marketing?
Indirect marketing relies much more on the idea of building loyal audiences and customers that will buy from you over time.
Unlike a direct sales call or commercial, indirect marketing assumes that your audience might not buy from you until a bit down the line. This "pipeline," as we'll dub it, can be weeks or even months-long from impression to purchase depending on the product and audience.
Some good indirect marketing examples may be referral systems or blogs.
These are very viable tactics, but they aren't quite so intrusive as direct methods, which leads us to the benefits of indirect marketing.
The Advantages of Indirect Marketing
Since indirect marketing very often takes the form of online content and other media, you can afford to put out much more of it without running the risk of annoying your prospects.
And this gives you the perfect opportunity to build a customer base that will stick with your brand. That's the real strength of indirect marketing.
A blog is unlike a commercial in that people will continue to visit your blog and revisit so long as you're providing good content.
After enough time, people will develop a sort of relationship with your brand, which means more profit for you.
In addition, since indirect marketing is all about attracting a loyal customer base, it's the most cost-effective form of marketing. In fact, some indirect marketing types are completely free.
This is also why indirect marketing tends to help you build a longer-term, more consistent stream of sales than many forms of direct marketing would.
Indirect marketing tends to start working on autopilot once it's built enough momentum too, but that leads us to our first disadvantage…
The Disadvantages of Indirect Marketing
It's highly unlikely that you'll see quick results with indirect marketing; it just needs that time to build momentum before you really see any significant results from it.
And in that time you're building momentum, you'll need to put in consistent efforts to keep building it up. You're not going to make much profit off of one blog post a year.
This means you'll have a period of time where you don't really see many rewards for your effort.
Once the rewards do kick in, they'll keep kicking in, but it can be discouraging before that point.
Direct Marketing Tips — How to Make it Work
One of the most important parts of direct marketing is knowing how to sell.
Whether that's selling in a one-to-many or a one-on-one sales call — is up to your business model, but the basic idea stays the same.
Learning to sell is one of the biggest differences between the successful direct marketers and those taking losses.
And the next thing to keep in mind is the aforementioned "spam" effect.
Put advertisements in too many places, too often, or at the wrong times, and you run a very real risk of pushing potential buyers away.
The key to perfecting direct marketing is knowing the right messages to sell, at the right places, at the right times.
But we haven't even gotten into an essential part of the discussion yet:
What are the various ways you can implement direct marketing?
5 Direct Marketing Examples — Methods That Work
Not all forms of direct marketing are created equally, so here are a few of the most popular methods and tactics — and whether they're worthwhile or not.
#1: Paid Advertising
Since there are so many forms of paid advertising, we'll include them all here, but they generally fall into the same idea.
Paid advertising can be in the form of pre-roll ads on platforms like Youtube or through Facebook & Google's competing PPC platforms.
The idea behind them is that you run ad campaigns and pay to get exposure for them. (Whether you're charged for clicks or views is down to the exact form of advertising you're opting for.)
Paid advertising is great when you know your ideal customer and can really help you nail down your marketing messages to a T.
#2: Traditional Advertising Methods
Another form of paid advertising we should note is the "traditional" form of advertising.
This includes things like billboards, TV ads, and even newspaper ads.
While traditional paid advertising can work for some businesses, it's probably a better bet to stick to online advertising, as that's where things are pivoting towards.
#3: Sales Calls
Sales calls are some of the most classic forms of direct marketing out there, and they've stayed around for so long because.. Well… they work.
With a well-trained sales team (even if it's just a one-man team), sales calls can be some of the most effective ways to get prospects to buy within a short timeframe.
One of the best uses for sales calls is any service or product with a higher price tag since it can be harder to entice someone to buy any high-ticket items with simple commercials or online ads.
Want to learn how to nail a discovery sales call? Check out our guide on that.
#4: Direct Email Marketing
Another classic form of direct marketing — as well as one of the methods with the most potential to become "spammy."
We've all seen the spam emails, and we all hate them.
And as a business trying to make a profit, it's probably in your best interest to avoid being lumped in with them.
Email marketing is a mainstay for many digital agencies and other businesses operating in the digital realm, but they can be extremely effective for more traditional stores.
#5: Direct Mail
Direct traditional mail — here's the thing about direct mail:
It may seem outdated, but it can still be wildly effective. Not as many companies make use of direct mail marketing during current times.
That also means when you use it, it makes that much more of a statement and helps you stand out.
While direct mail probably isn't going to be the method your company solely relies on, it can certainly work well in specific cases.
How to Do Indirect Marketing Right
Indirect marketing focuses less on getting prospects to buy now, and more on building a reputation and brand. That way, they buy from you in the future, and hopefully— continue to buy from you.
For most of these methods, the name of the game will be building trust consistently with your audience, while continuing to provide some sort of value over time.
7 Best Indirect Marketing Examples That You Should Try
While indirect marketing tends to be more subtle than its direct counterpart, that doesn't make it any less valuable.
In fact, as we just discussed, this subtlety allows you to be hyper consistent with it, which can be one of indirect marketing's greatest strengths.
One of the best examples of this is content marketing.
#1: Content Marketing & SEO
Content marketing, and more specifically, SEO, is one of the most powerful tools at any business's disposal.
It's been shown to offer as much as 3 times the leads while costing 62% less than traditional marketing programs.
Which is why as many as 91% of organizations worldwide implement it in one way or another.
Content marketing allows you to turn a website blog into a sales-generating machine that continues to give on autopilot once you get the ball rolling.
Some of the keys to a successful blog are consistency and providing real value to your audience.
If you can regularly give your audience valuable tips and information, it shouldn't be all too long before you see some of them turn into loyal fans of your brand.
#2: Social Media Pages
In the current age, practically everyone is on at least one or two social media platforms.
People are constantly checking their feeds for updates and new content, which is why any business not taking advantage of social media is missing out on vast amounts of potential sales.
#3: Sponsored Content
Another common method of indirect marketing is through sponsored content.
While many indirect marketing strategies require you to build trust with your audience for some amount of time, sponsored content works so well because you can work with influencers that already have audience trust.
Working with reputable influencers gives your brand much more credibility and gives you a near-instant "in" with said influencer's fans.
#4: Referral Programs
Another way to build instant trust with a potential customer?
Get recommended by one of their friends or family.
Encouraging referrals through reward programs is a great way to turn every customer into more customers. Think about it; the situation is a win-win.
The customer who refers their friend gets a reward, and you get a new customer (which will hopefully turn into yet another customer.)
#5: Affiliate Programs
Affiliate programs fall into the same category as referral programs and still work great.
The only difference is that generally, any of your affiliates will make commissions of any referrals. This is a great way to further entice people to refer your business past what a standard referral program might be able to do.
#6: PR & Social Proof
People are more likely to do business with you if they trust you. Getting PR is one of the most valuable ways to establish social proof and show off to your prospects how impressive you are.
What can build more trust than an article about you in a reputable news publication like the New York Times?!
What's best, you'll continue benefitting from press coverage long after being featured.
#7: Influencer Marketing
Word-of-mouth marketing has always been one of the most efficient types of marketing out there because people trust other people's experiences more than they trust advertisements.
Social media influencers with loyal followers can help you build awareness and ultimately boost your sales.
If you want to learn more ways to attract more customers, check out some of our favorite ways.
Which is Best for Your Business?
Again, there's no one-size-fits-all; each business has its own needs, but which is better for your business — Direct or Indirect Marketing?
Well, we actually suggest both.
If you need quick results or a way to generate profit while you're waiting for indirect marketing to kick in, direct marketing is perfectly viable.
But to build a loyal customer base that continues to generate consistent sales for your business, you'll want to make use of indirect marketing.
While your ad campaigns are busy getting you more sales, you should put some time into creating a blog or managing your social media page for a more stable profit stream down the line.
Want to learn some outbound strategies to generate leads? Check out these techniques that work.
The Bottom Line
And there you have it, the lowdown on direct and indirect marketing.
Both are useful in the right circumstances — depending on whether you need results now or want to invest in a long-term strategy.
To make either of them work, though, you'll need to put in the time and effort to find out exactly who your audience is so you can craft the perfect strategy.
An easy way to boost your sales and marketing efficiency?
Choosing an all-in-one CRM that streamlines and automates your processes.
VipeCloud can help you transform the way you store customer data, automate email marketing campaigns, and more.
So if you're interested, get started today. Request a free demo.